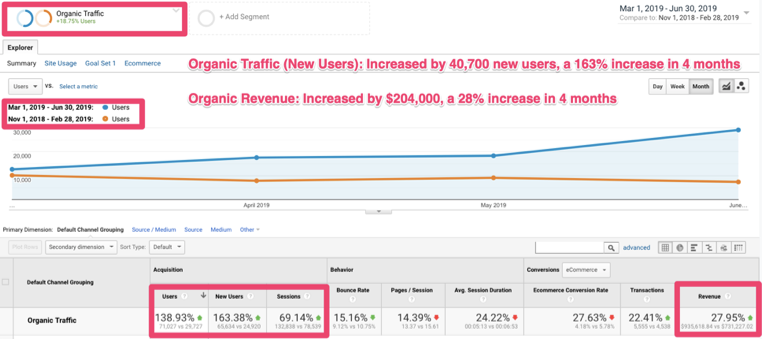 Our SEO campaign increased this client's revenue from organic traffic by over $204,000, a 28% increase in only 4 months. That represents an impressive 34 times ROI from their marketing spend with Juiced Digital Cannabis SEO during that time.
This was made possible from the increase we achieved in organic traffic (new users) of 40,700, a 163% increase in only 4 months. We also increased their organic traffic users by 138% and organic traffic sessions by 69% over the same period. These all represent loads of new customers coming to the website through organic search.
With Juiced Digital Cannabis SEO, we brought highly targeted traffic to the site, achieving top rankings for some of the biggest keywords in the niche, including the following, as of June 2019:
#1 for 'online dispensary Canada' (12,100 monthly searches, biggest keyword in the niche)
#1 for 'buy weed online' (5,500 monthly searches, second biggest keyword in the niche)
#1 for 'edibles' (4,900 monthly searches)
#2 for 'buy weed online Canada' (3,500 monthly searches)
And with over 21 relevant #1 rankings and 64 relevant #2-#5 rankings.
The Client & Cannabis SEO Method
The client is an online marijuana dispensary operating throughout Canada. The website had a lot of Cannabis SEO work done in the past which was quite successful, even achieving some relevant #1 rankings. However, the SEO methods used were risky, and a Google update wiped out a ton of their traffic. They came to Juiced Digital looking to recover from their loss of traffic.
Our method was to send power and relevance to the website through a combination of links from our private marijuana network of websites, guest posts, and social profiles. As demonstrated by this case study, Juiced Digital over-delivered, as we not only recovered the traffic they lost, but also brought their organic traffic to well over the highest it had ever been in the past, and substantially increasing their revenue.